a slight newsletter change & upcoming books
Hello, friends. It's the day after the Hugo Awards, the sun is shining (and hot, and unrelenting; but let's focus on the shine) and this newsletter has packed up its bags and caught a train from one platform (MailChimp) to another (Substack). What does that mean for you? Not much, really. If you were subscribed before the move, you still are. But you're welcome to unsubscribe if that suits you, with no hard feelings.
Some highlights, since our last chat:
The Jasmine Throne has been through edits and almost feels like a finished book

I've seen a draft cover and I may explode if I don't get to show it to you soon

We have a publication date! (April 27th 2021 in the USA; April 29th in the UK)

I'm going to be writing my first YA: a remix of Wuthering Heights!
It'll be a long old while before The Jasmine Throne comes out, but I feel like it's still managed to consume my life. It's a chonky thing: 5-6 points of views, a cast of 20+ named characters, and multiple cultures and magic systems. Editing it has taken a lot out of me. But god, I'm really, really proud of it. It's everything I want it to be: staunchly epic but also very intimate, sapphic, furious, heavy on the beautiful prose (you'll pry adjectives out of my cold dead hands, etc), and full of the mythology and imagery I grew up with. Sita walking through fire; Sita asking the earth to open for her; Draupadi bathing her hair in blood. Etc, etc.
But more on that, I think, in a future letter.
I'm also really thrilled to be working on a remix/reclamation of Wuthering Heights. It'll be set in the same time period as the original novel, but it'll draw on the real history of South Asian migration to Britain: of lascar sailors, the East India Company's exploitation of India, and mixed race children who were often forcibly ripped from half of their cultural heritage. I'm researching it now, and may sneak in some book recs into future letters as I dive deeper.
Books I've read:
I've been drowning in ARCs (advanced reader copies of books) and struggling to keep up, which sucks because they've all been stunning, but some books are out now that I've absolutely loved.
Life stuff:
I have bunnies! In honour of the The Untamed, the original plan was to call them Hanguang-Bun and Yiling Hopzu, but at some point my spouse and I came to our senses and realised that wouldn't suit the bunnies at all. So they're named Gytha and Esme now, in honour of Terry Pratchett's witches. We're looking to buy a larger rabbit run as soon they stop being out of stock online, but our little Ramtops bun are nonetheless settling in nicely: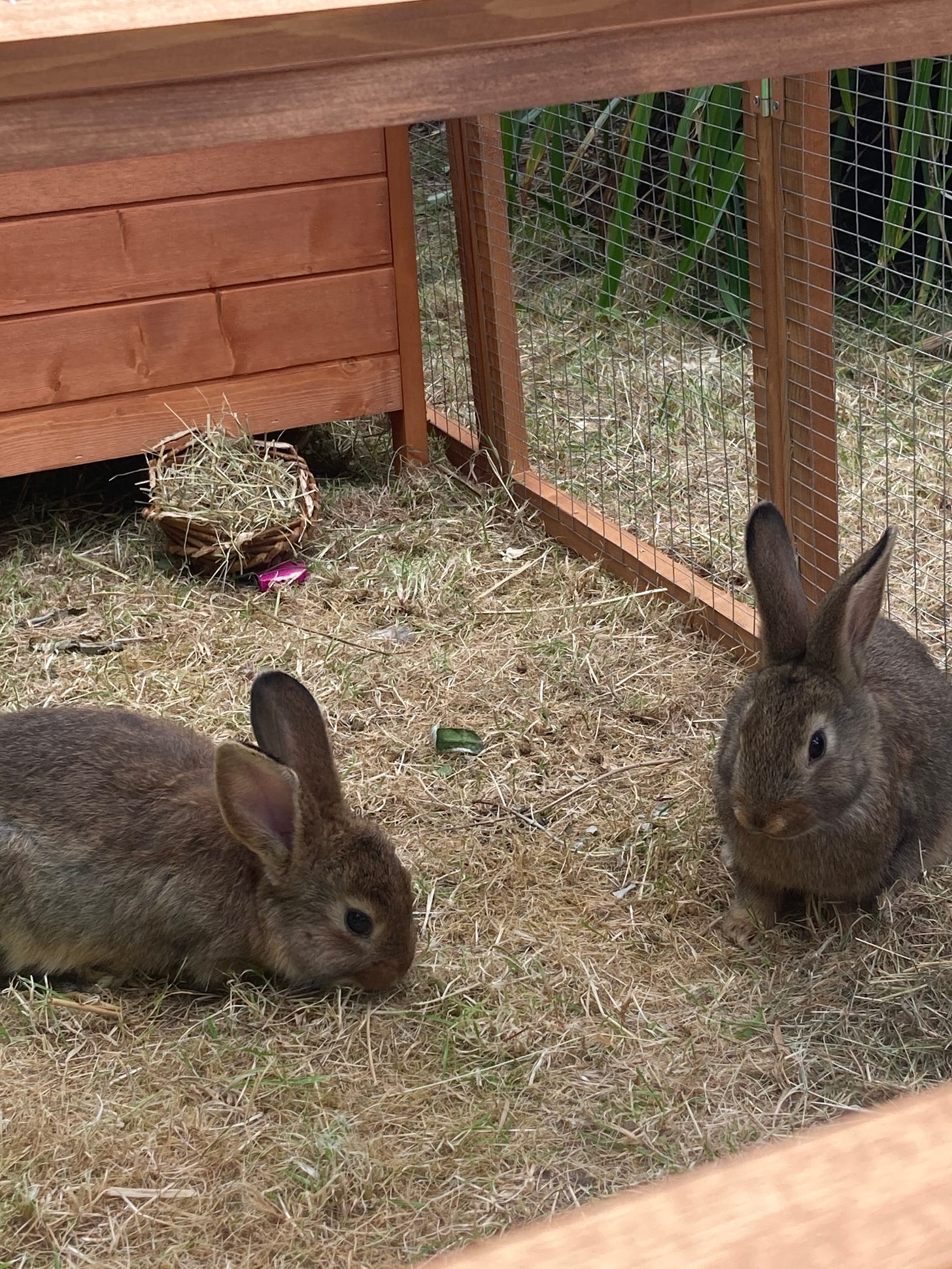 (Gytha is the slightly more orange-y one one the left eating grass. Esme is on the right. Yes, it has taken me days to properly tell them apart, and in dim lighting it's impossible.)
And finally:
Empire of Sand is apparently currently on sale on Amazon US for $2.99, so if you have friends who're interested in trying my work, this may be their moment to give it a go.
Thank you for signing up for this letter and sticking with me. Hopefully I'll be able to bring you news of a cover soon. Watch this space!